David and Stacie Forman
We originally developed WeRuVa, a luxurious, natural pet food, for our three rescued cats, Webster, Rudi and Vanessa, after searching for the best cat food under the sun. When the best wasn't good enough, we sourced quality ingredients, developed some fantastic recipes, and created it ourselves.
Naturally, when we were lucky enough to have our rescued dog Baron enter our family, we decided to expand our products to include dog food.
Our pet food is produced in a human food facility using many of the ingredients and processes used in products made for people. Base proteins include top-quality muscle meat like white breast chicken, whole tuna loins and select cuts of beef.
Then we add fresh vegetables and other unique ingredients like grilled skipjack, tilapia and red bigeye tuna, as well as calamari and shirasu. Our ingredients maintain a natural look and recognizable texture which allows you (and us!) to see and understand the ingredients…so what you see is what you get!
We hope your furry friends love Weruva as much as Webster, Rudi, Vanessa and Baron do!
What's in the Name
Founded in 2006, Weruva was named after David and Stacie Forman's three rescued cats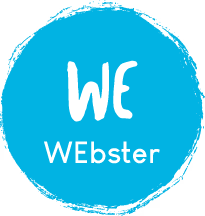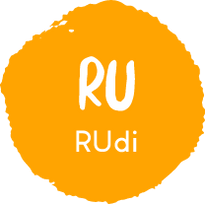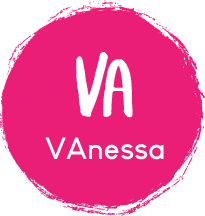 (They've since adopted a dog, Baron, but are hesitant to rename the company Weruvaba.) Learn more about the whole team!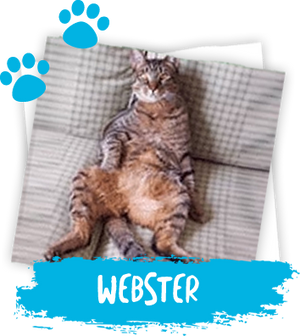 I am the "tough guy" of the bunch…you have to be when you are born in the Bronx. I am a real New Yorker at heart, somehow after being found on Webster Avenue, I ended up at the shelter in Manhattan, living in a little cage until one day my Daddy came and picked me up. You see Mommy was too upset after her first trip to the shelter (she wanted to adopt all the animals) so she sent Daddy in alone, because they said Rudi needed a sibling. I stretched my paw out of the cage as far as I could reach, and my Daddy says he just fell in love.
I think that is why I have such a special bond with my Daddy, I love to be near him at all times and I get very sad when he is not at home. I came home and met my new brother Rudi and it was love at first sight…now we are best buds.
---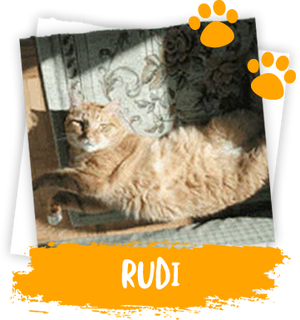 Although I am the "RU" in WeRUva I am going to let out a little secret my brother might not know…you see, my brother Webster might think he should come first, but truth be told, I was the first to arrive on the scene…literally! I was too young to remember who, but someone left me to roam the streets of Manhattan all alone on a cold November night. That's when I found my Mommy and Daddy. I carefully hand picked them as my new parents. I made sure I was a good boy when they brought me home to ensure they would keep me forever.
And I am happy to say it worked like a charm. I nestled my way into their hearts quickly and once they started calling me by the name "Rudi", I knew I was theirs for keeps.
---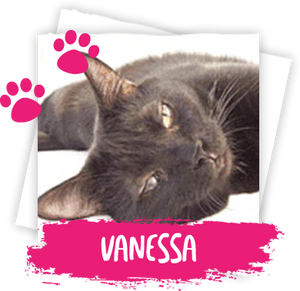 I am the "Princess" of the bunch and although I am the oldest, my two bigger brothers are protective of me, even though they like to pick on me sometimes. I was found living in filth and was very neglected. I even have a blind eye from an infection that went untreated. The nice people from City Critters rescued me and called me Vanessa, but I still ended up living in a cage for so long and nobody wanted to adopt me. Then, one day, these nice people came along (who are now my Mommy and Daddy) and said they would foster me. I didn't know what that meant, but I was just so happy to get out of that cage and of course, because I am so cute and sweet, they wanted to adopt me and keep me forever.
They still call me Vanessa, but they also call me by a strange name "Peanut" sometimes. I don't really care what they call me because I am a Princess and only respond when I am in the mood. I fell in love instantly with my two brothers and I love to be the house Mother, grooming them and cuddling with them all the time.
---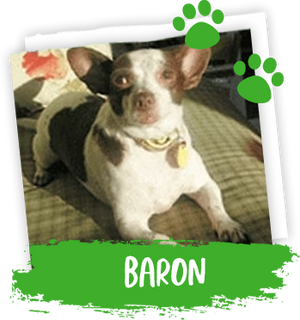 I was found on the streets of New Jersey and brought into the "Friends of Linden Animal Shelter" where these nice people took care of me. I was very scared and didn't trust anybody and then one day my future Mommy came to visit me. I was a little sick and not neutered, so I had to stay in the shelter for about a month and my future Mommy came every weekend to spend time with me and take me for walks. Finally I was able to go home and when I did, I found out I had two brothers and one sister who I really don't pay much attention to because I only have eyes for Mommy.
Ok I admit, I am a Mommy's Boy. Every once and a while I play with my siblings, but I don't think Webster likes me very much…and I give him his space…he is a BIG boy. Oh and I found out I was named after my Mommy's Grandma's German Shepard she had years ago, how cool is that? I am a little smaller than a German Shepard, I weigh about 11 lbs…but I do have a "big boy" attitude!